Purchase Signed Books
by Kelli Russell Agodon:
---
---
~ Letters from the Emily Dickinson Room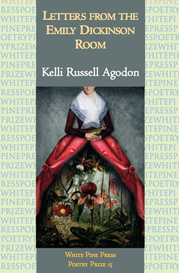 WINNER of the ForeWord Book of the Year Prize in Poetry
Finalist for the Washington State Book Awards
_____________________

Order a signed copy from PayPal here

Order from Amazon.com

Order from White Pine Press

Order from your local independent bookstore here
________________
In her second collection of poems, award-winning poet Kelli Russell Agodon creates a delicate balance between the seriousness of life and a brilliant sense of playfulness. A book about anxiety, spirituality, and the various ways we correspond including letters, postcards, love notes, conversation, song, and prayer.


"These are poems of remarkable liveliness. In their wide-ranging wit and passion for language, their surprising juxtapositions of the ordinary and the exalted, and their willingness to foreground doubt in a search for meaning, they show a fellowship with the work of Dickinson that is deep without ever being solemn. Here is a fresh, distinctive voice that is consistently engaging and surprising."
—Carl Dennis

In Letters from the Emily Dickinson Room, a most unexpected feat of poetic legerdemain, Kelli Russell Agodon composes on the high-wire of misprision and semantic accidents. She is an aerialist hovering above language without a net, and is possibly the wittiest anagramist in recent memory (pray for poets becomes the story of paper). All I can say is: reader, go with hershopping for coffins. Go with her as she nails light to paper. The rewards are many.

—Carolyn Forché
Kelli Russell Agodon's book,
Letters from the Emily Dickinson Room, is a bright, funny, touching meditation on loss, love, and the power of words. Her genius is in the interweaving of God and Vodka, bees and bras, astronomy and astrology, quotes from Einstein and Dickinson, a world in which gossip rags in checkout lines and Neruda hum in the writer's mind with equal intensity.
—Jeannine Hall Gailey
Letters from the Emily Dickinson Room
Kelli Russell Agodon
Paperback, 100 pp
White Pine Press, 2010
ISBN: 1-935210-15-3
$16.00
---
---
Fire On Her Tongue: An eBook Anthology
of Contemporary Women's Poetry
Edited by Kelli Russell Agodon & Annette Spaulding-Convy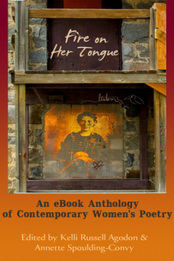 Over 460 pages of the best women poets writing today and featuring over seventy poets such as Jane Hirshfield, Aimee Nezhukumatathil, A.E. Stallings, Kim Addonizio, Dorianne Laux, Natasha Saje', Kate Greenstreet, Susan Rich, Martha Silano, Lola Haskins, and many more. . .
Available for $7.99 on your favorite eReaders:
For Kindle: Order your copy on Amazon.com
For your Nook: Order your copy at Barnes & Noble
For all your eReaders: Order ePub or Mobi format for Kindle
For your laptop: Order a PDF version to be sent to your email
Also available on
iBooks
and coming soon to IndieBound.org, Powell's, Sony Reader, eBooks.com
& many other eBook outlets.
Fire On Her Tongue: An eBook Anthology of Contemporary Women's Poetry
is the first electronic collection of poems by women writing today. Poets Kelli Russell Agodon and Annette Spaulding-Convy, Co-Editors of Crab Creek Review and Co-Founders of Two Sylvias Press, have collaborated on this ground-breaking literary project. Featuring over 70 of the most extraordinary poets from a variety of backgrounds and whose ages span from thirteen to ninety-one,
Fire On Her Tongue
showcases superbly crafted poems exploring the contemporary woman's experience.
Delivered via Email
Edited by Kelli Russell Agodon & Annette Spaulding-Convy
PDF version, eBook
Two Sylvias Press, 2012
ISBN 13: 978-1-937860-24-0
Price: $7.99
Find out more about Fire On Her Tongue at Two Sylvias Press.
---
---
Small Knots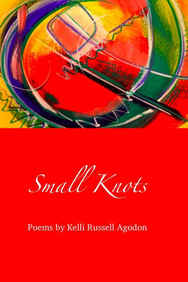 Small Knots is a tender and terrifying collection of poems that maps illness, celebrates the family and life's daily small joys, and meditates on what connects us to the world.
_______


Small Knots
Poems by Kelli Russell Agodon

Paperback, 88 pp
Cherry Grove Collections, 2004
ISBN: 1-932339-27-2
Retail price: $17.00
---